Wow- I can't believe it has been almost 3 weeks since I updated. A lot has been going on and we are finally starting to wind down from all the busyness of the past month. Warning:this might end up being a long one!
First, since I know this is what most everyone wants to hear about anyway, I'll start with the adoption news.
Yeah well that would work if there actually was news to talk about. Hmmmm.
Basically since I posted last about our I600 being finally at the Korean embassy, we have not heard anything else. For some odd reason we seem to be the only family who did not receive a tracking # for our paperwork. This means that we cannot call the visa-info line in DC to check and see if she's had VI scheduled. This is both good and bad. Bad because it is frustrating trying to anticipate when we'll get that travel call (usually anywhere from 1 to 10 days after VI), but good because I am not calling every single day just to get the same negative answer that it has not been scheduled. Right now our agency has had a huge slow down with families getting VI's and very few travel calls this month as well.
Also, another factor that we weren't really anticipating is that after she has had her visa physical the doctor may require us to sign something called a class-b waiver that basically states any special need that he thinks we need to be made aware of. We obviously know her special needs based on her check-ups and nothing he finds would change our minds about adopting our precious girl. The agency has no idea whether or not she will need one and said it all depends on the doctor who examines her. Please pray that we will not need to sign that waiver as it could potentially add up to another month to this wait. Only a few weeks ago I was hopeful that we could see a May travel call... now I am praying that we will hold our baby before July. :-(
There are so many ups and downs on this journey and I am thankful that no matter what our God does not change. I am clinging to that right now. And I know that He will bring our beautiful answer to prayer home in His perfect timing.
Speaking of our baby girl...
We received an updated medical report a few days ago and she is doing so well! She is now 9 months old and 15.3 lbs and 25 inches- still growing steadily at about one pound and one inch per month! The report says that she is a cute and small sized baby. (we knew that already!) She is rolling over, creeping, grasping large objects, responds to name, imitates sounds, babbling mama and dada, prefers mother, and is shy of strangers. She is now only 2 months delayed (pretty normal for a preemie born 2 months early) compared to the last months when she was 3 months behind- so she is catching up!
I have been praying that we would travel before she turns 10 months, but I'm not so sure about that now. Sigh.
On to other news!
Our Jensen has joined the track team at school and WOW he is good! It has been awesome to watch him run and work so hard at his meets- he does not give up!
The first meet he got 1st place in the 800 meter out of all the 4th graders.
He also got 3rd place in the long jump- he jumped over 11 feet!
Last Friday was his second meet that qualified him to run in this week's area championships.
He got 2nd place out of 24 4th grade boys, and it was 100 degrees outside! He amazed me that he could run a half mile in three minutes and 4 seconds. We prayed beforehand that he would be like Eric Liddel and that he would "feel God's pleasure when he ran." I think it worked!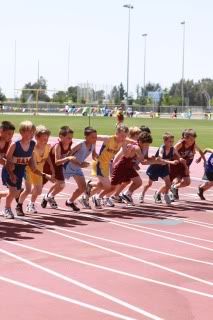 Last week Austin, Nathan and I joined some families from our homeschool group and got to go on a little service trip to
Gleanings for The Hungry
.
They are a division of YWAM and have an awesome ministry! Basically there is so much wasted food here in America so they "glean" the leftovers to distribute to people in other countries without food. For instance all the fruit we see in the store has to look perfect or else it won't sell right? Well what do you think the packing houses do with all of that perfectly good fruit that just doesn't look as perfect, but tastes the same? Instead of throwing it away, some of them donate it to Gleanings and then they have volunteers working to dry it and package the dried fruit all summer long to send to hungry people in over 40 different countries- pretty awesome huh! And that is only one part of the ministry.
In the off-season they put together a dried soup mix with vegetables and beans and send that off as well. This is what we participated in- and it was fun! The cool thing is that they are working with YWAM missionaries all over the world and giving them an access to share the gospel with these other countries by meeting a felt-need.
And they are right in our backyard- only an hour away!
I defnitely want to go back with Randy and maybe try to make it a regular service opportunity for our family to participate in. What a great way to keep our family involved in world-missions while we can't physically GO somewhere at the moment.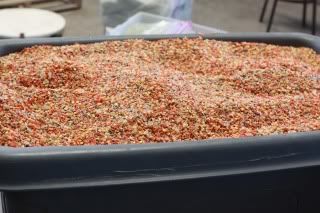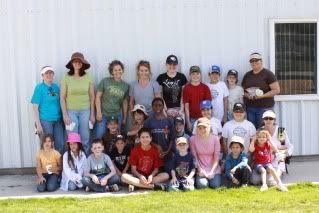 Ok so that's all I have time for now. Be back later with more pictures of course!