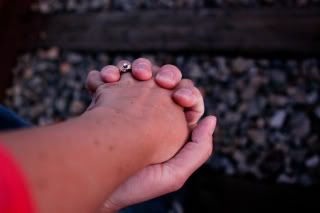 So it has been awhile since I've posted anything, but that's not to say that a lot hasn't happened. In fact there has been so much going on that this blog is pretty much the last thing that is on the list... sorry to my 2 followers that actually read this!!!
I have to back track a little bit though. A few weekends ago, Randy and I got to get away for a night in Napa and it was wonderful. He had to do an appraisal on Friday afternoon, so he left me at this hotel to fend for myself for a few hours while he was gone. Um yeah, it was rough: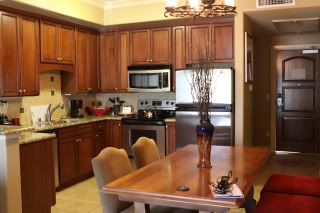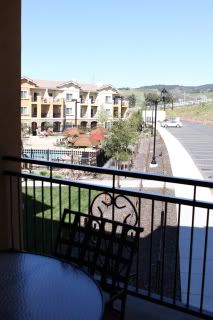 This place was so nice (thanks to my in-laws for the gift!) and I had an amazing relaxing time just sitting around reading, blogging, and napping. After he came back to the hotel we went out to dinner and drove around as the sun was setting. Of course I had my camera with me and we found this old abandoned military base by the railroad tracks so we stopped to take a few shots. It was fun just being goofy together!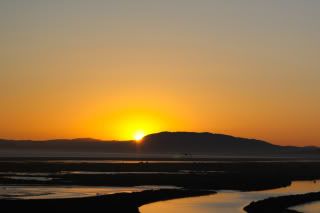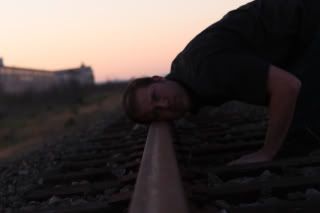 I LOVE this picture of him...
The next morning we headed to our last adoption parenting class that we needed to finish before Elliana can come home. It was a short little trip, but it was wonderful to be away together probably for the last time until Korea.
On another note, I have been feeling like I have lost my mind lately. With each day that goes by I am feeling more and more scattered and overwhelmed. I will spare you the details of how mindless I have been- but it has been BAD.
I guess when you are adopting you must get that same brain-loss that you do when you're pregnant, cuz I am feeling it!
Just to be honest and real, the past several weeks I have felt so overwhelmed that it has literally robbed me of my joy. I have not felt like this for a very long time and it brings back very painful memories of not enjoying the boys when they were young. I have been feeling guilty that we have a baby girl waiting for us in Korea that I have waited 5 long years for... and yet having the feeling that it is all happening too soon and that we won't be ready for this huge life change. :-(
Jesus said in John 15:11
"These things I have spoken unto you, that My joy might remain in you, and that your joy may be full."
Where was my joy?
The Lord has been so gracious though and has given me a way out of this pit I have been in. Last weekend I knew that with spring break coming up this week, I was going to have to be proactive about this battle and make a plan. So Monday morning I woke up at 6:00am and started an intensive study of one of my favorite books: Phillipians. I specifically chose Phillipians because Paul shares the secret to true JOY and that is what I have been missing. I have been so busy checking things off my list (even reading my Bible) that I have missed out on the true joy that comes from knowing Christ. It has only been 4 days, but can I just say that I find myself not wanting to stop my special time alone with the Lord because it is so much richer now that I am really seeking Him. I know that it is going to be MUCH harder next week and beyond when we don't have the flexibility of getting up whenever and sitting around in my pajamas until 10:00! But I am learning that true joy is not just a happy feeling, but it is a deep contentment and way of thinking no matter what the circumstances. It also helps to know what robs us of our joy as well: circumstances, people, things, and worry. Yup, I can honestly say that my mind has been fixed on these 4 things, rather than fixed on "things above."
Warren Wiersbe says in his commentary on Phillipians,
"it is a book that explains the mind the believer must have if he is going to experience Christian joy in a world filled with trouble."
*So that is a brief update. You are welcome to jump into the book of Philipians with me and join me on this road to true joy. It starts with the way you think...
Have a blessed day!!!